67% reduction in food waste achieved by partner catering restaurants
Our suppliers have implemented actions to reduce food waste through partnerships (ToGoodToGo, Le chainon Missing), as well as charitable actions in collaboration with associations and NGOs (POIC, Sidaction, AVEC foundation, Solidarités Internationales, Autistes sans Frontières).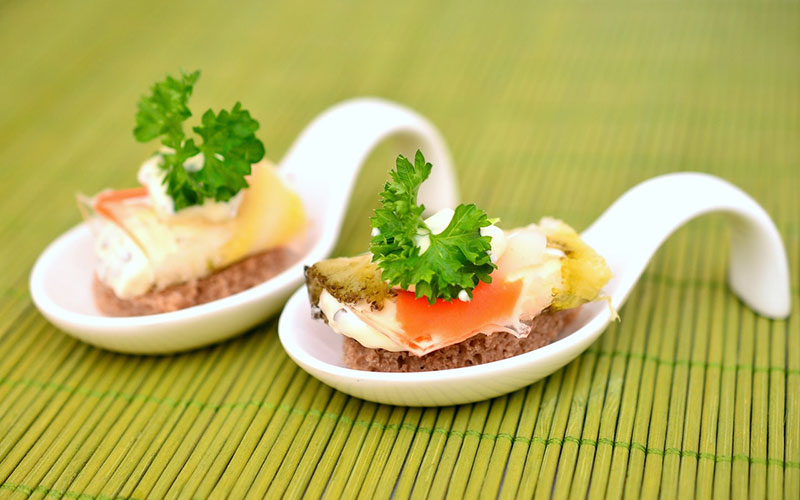 FOOD WASTE REDUCTION

67%

67%

ORGANIC FOOD AND LOCAL SOURCING

50%

50%

VEGETARIAN OFFER AND SEASONALITY OF PRODUCTS

33%

33%
67% of respondents have waste reduction targets, have established partnerships to recover food leftovers and have effectively reduced the amount of food waste compared to previous years.
50% of respondents source their food organic and through local networks.
33% have a vegetarian offer and follow the seasonality of the products.
Testimonials: The pride of our partners
Kaspia Reception has set up training courses in eco-driving.
Maison blanche sources its supplies in short circuits, with local producers. The majority of the products come from organic and reasoned agriculture.
Potel et Chabot The first signatory of the National Pact against food waste, is committed to the upgrading of unused food products that it redistributes to partner associations.
Kaspia Reception has created a collection of eco-responsible, recyclable and / or biodegradable meal trays, and uses reusable washable containers in its activities and ensures sorting.
LeNotre made a commitment in 2010 as a signatory of the CSR Charter and created a Sustainable Development department.
Bertrand Restauration strives to act responsibly and sustainably, aware of the impact of human activities on natural ecosystems. Social responsibility is built around three key commitments: being a responsible employer, guaranteeing food quality and safety, and being a sustainable company.
Saint Clair is a member of the Global Compact and is ISO 14001 certified.
Bertrand Restauration guarantees food quality and safety by committing in particular to using exclusively eggs from breeding alternatives to cages by 2025, the time necessary for the transition of the sector in France.
Kaspia Réception is ISO 20121 certified. Its sustainable development criteria are formalized and incorporated into the specifications in the selection of food suppliers.
Maison blanche has set up a partnership for the recovery and recycling of used oils with Biocoop.