100% of the service offers of partner hotels aim to reduce environmental impacts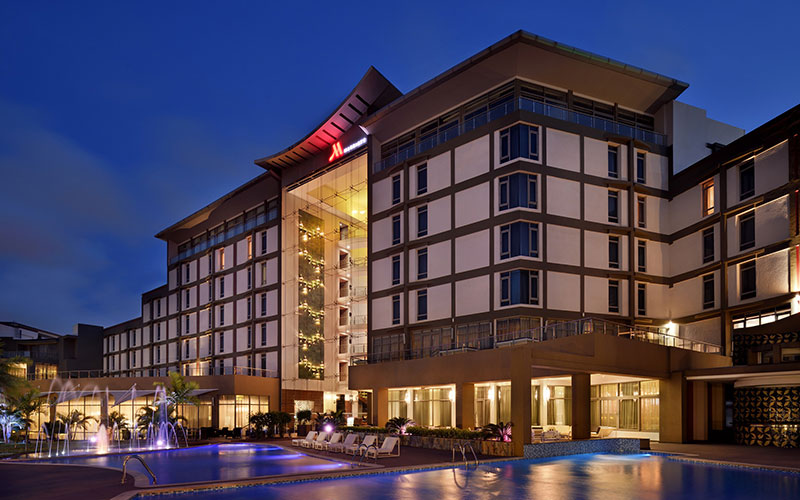 REDUCTION OF ENVIRONMENTAL IMPACTS

100%

100%

ONE OR MORE LABELS

80%

80%

RENEWABLE ENERGY CONTRACTS

75%

75%

VEGETARIAN OFFER AND SEASONALITY OF PRODUCTS

75%

75%
100% of respondents have developed service offers aimed at reducing the environmental and social impacts of hospitality and event activities.
80% of them carry one or more labels, here are a few:
• Planet 21
• Serve 360 Mariott
• Accor CSR Policy
• ISO 20121
75% of respondents have / are implementing renewable energy contracts.
75% of respondents adapt their catering menus according to the seasonality of the products and offer vegetarian menus.
Testimonials: The pride of our partners
Novotel Paris Est is committed to the Planet 21 program. These are the 21 commitments made by the Accor group in favor of sustainable development. Commitment to reduce water and energy consumption, by recycling waste to reduce the (carbon) footprint.
Marriott Hotels have published their objectives and must reduce their environmental footprint by 2025 along the following lines:
-15% water use,
-45% landfill waste
-50% food waste
+ 50% renewable energy including a minimum of 30% renewable electricity.
The social protection policy of Marriott Hotels throughout the world aims to set an example for its employees: diversity, official training of partners in the laws and their application of human rights, including levers for reducing the risk of human trafficking and responsible recruitment.
The Peninsula hotels obtained a "good" score on the BREEAM (method for evaluating the environmental performance of buildings): use of sustainable wood, energy-efficient ventilation system and wall covering with recycled content.
By 2025, Marriott hotels aim to promote world peace through hotel activities. They are investing $ 500,000 around the world to assess, drive and elevate the role of tourism towards human well-being.